Every adversity, every failure, carries with it the seed of an equal or greater benefit.
NAPOLEON HILL
Good morning,
One of the most profound turning points in my life occurred in 1974 when I read Think and Grow Rich. Despite the Napoleon Hill classic having been first published some 50 years' prior, the lessons of success and stories of achievement against adversity transcended the pages and hit me like nothing else before.
The book has now sold more than 100 million copies, becoming the most successful self-help book in history. Interestingly, more than 70% of sales occurred in the last 30 years, a true testament to its timeless legacy.
Immediately after reading Think and Grow Rich for the first time, I made two promises to myself:
First, I would start my own business within 100 days.
Second, I would spend the rest of my life spreading the principles outlined in Hill's books.
They both became a reality, and to this day nothing thrills me more than helping people take steps to achieving a happy, prosperous and more fulfilled life.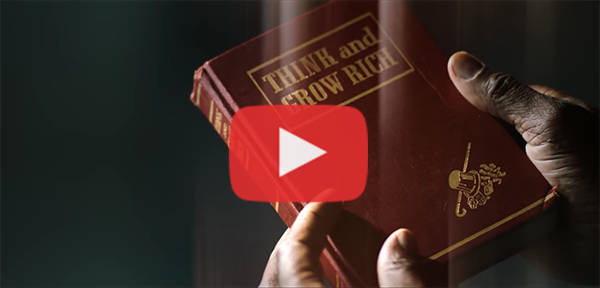 It's fact of life that we all come from different backgrounds, and not all of us have been given the tools to think about what else is possible. As a kid at a small state school on the outskirts of Brisbane, I never in a million years would have thought that my achievements would be possible. I was bullied for being the pig farmer's son, ridiculed for an inherent lack of sporting ability, and reprimanded for poor academic performance. It was a difficult time, as adolescence is for most, if not all, of us.
Think and Grow Rich is a literal blueprint that will undoubtedly transform the lives of all those who read it. Giving it to someone who is going through a difficult time might be the most significant moment in their life to that point, as it was for me.
I am excited to announce that I will be featuring in the first ever film version of Think and Grow Rich.
Later this week I will fly to Los Angeles for filming, joining co-stars Bob Proctor, Barbara Corcoran, Rob Dyrdek, Darren Hardy and Lewis Howes to share our stories on how the book changed our lives. It is our intention and great hope that this groundbreaking project will introduce Napoleon Hill's proven and timeless success principles to a global audience and inspire today's generation in a way that has never been done before.
For those who wish to help crowdfund the film ahead of its release next year, click here. So far the project has raised more than USD $100,000+ within two weeks of its crowdfunding campaign launching.
The film is fully endorsed by the Napoleon Hill Foundation, and the production team has put together a comprehensive list of benefits for all those who contribute as little as $1. (Some of my books will be listed as benefits in the coming days, and I have also contributed to the film's crowdfund.)
View a behind the scenes clip. Keep updated on the project via the film's Facebook page.
I look forward to bringing you more information in the coming months.
Best regards,
Noel